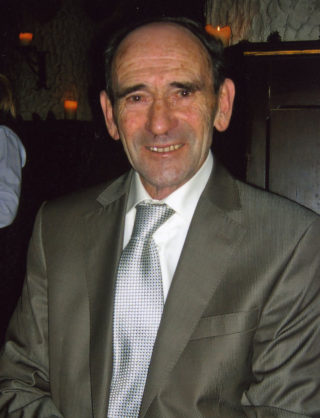 Frank or (Frankie) was born on Good Friday 25th March 1932 – the year of the Eucharist Congress and died on the 7th December 2016 on the eve of the feast of the Immaculate Conception – two great feast days in the Christian calendar. He grew up in Clonbur in his parents Paddy and Annie's country shop. He played football, hurling, fished and hunted rabbits with his siblings Mikie RIP, Mary Gilroy (Sligo), Paddy Joe (Miltown Malbay), Seamus RIP and their dog 'Jinks'. Frank spoke highly of his parents, 'I was blessed to have great parents and a happy childhood."
Education
Frank attended the local Primary School from 1947-1952. He received his Secondary School education at St. Mary's College Galway. Here he was introduced to athletics, the long jump, high jump and poll vaulting. He was Connacht Champion in the jumping events in the mid sixties. He attained his teaching qualification at St Patrick's Training College Dublin 1952-1954. He was a valuable player on Erin's Hope Football team (Dublin) during this period. He was appointed Principal of Rockcorry N.S. Monaghan (1954-1959) on leaving the Training College. He played football with Rockcorry and later Killeevin, Co Monaghan where he won a County Senior Championship medal in 1955.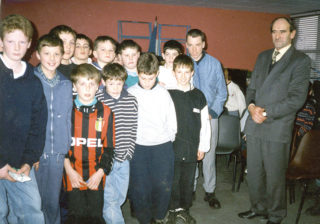 He was appointed Principal of Tonbhuí Boys School, Oughterard in 1959 – a position he held until he retired in 1997. He taught with Mrs. Flanagan and Bríd Finnerty. He brought his love of football, athletics and Maths to the school. He trained the boys who passed through the school and was famously quoted as saying, – "Take the points lads and the goals will come.' He was a founding member of the Galway branch of Cumann na mBunscoile. He moved to the new school (as it was called then) in 1972 and taught with his life long friends – Mrs. Gibney, Miss Moloney, Martina Sullivan, Brigid Brady, Renii Whyte and the present principal Micheál Ó Domhnaill.
Gaelic Athletic Association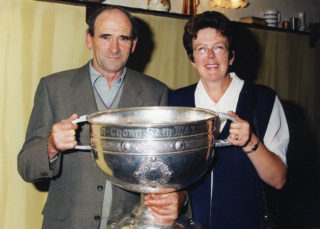 He was a founding member of Clonbur GAA – Cumann Peile Naomh Pádraic. As John Joe Holleran said in his graveside oration " Frankie was one of their best players during the famous 7-aside tournaments. In one such tournament in Shrule, Frankie scored a total of 13 goals and 4 points against various teams – a standard which may still stand."
The big enjoyment of such local tournaments was the high fielding, catching and the lightening speed of the forwards on the field of play. There was tremendous rivalry between the teams who were out to dethrone the famous Clonbur lads. Teams came from Galway, Mayo and Connemara. Endless mugs of strong tea, soggy sandwiches, the hype of supporters and of course the ultimate reward of taking back the trophy to your village after a contest well fought added to the sheer excitement of the occasion.
The prizes awarded at the tournament ranged from the usual silver cup/ trophy to a suit length of material, money or watches. The prize money was £10 and 10shillings that was shared among 7 players each receiving the pricely sum if £1 and 10shillings each.
Frankie always said that he missed bringing the trophy back to Clonbur as he had to travel back to College or Monaghan where he was teaching at the time. The football fraternity always referred to Frankie's sheer speed and athleticism as a forward.
Club Titles
1959, 1961, 1962, 1963 – Coiste Iar Gallimh, Peil na Soiséar, Naomh Padraig
1956 – Sraith Sinséar Naomh Padraig
1962 – Craobh Soiséar Naomh Padraig
1953 Oughterard 7-a-side
1959 Shrule7-a-side
1960 – Clonbur 7 -a-side
1959 and 1960 Frank played on the County Galway Junior and Senior teams. He was a West Board delegate to Coiste Peile na Gaillimhe and a selector on the fantastic Three-in-a-row Galway Senior team. Frank was also a well-respected referee.
In 2008 at the Galway Football Championship Final he was honoured with Seán Cleary as a 'Personality of the Past".
Cumann Peile Séamus Ó Máille made a presentation to Frankie in 'Appreciation of a life long dedication and commitment to Gaelic football in Oughterard.'
The GAA Club with the Angling Club paid a final tribute to Frank when they formed a Guard of Honour and accompanied his remains on his final journey to the Church.
The family appreciated the obituary posted on Face Book and in the Connacht Tribune. For a man who never strove for fame or glory he would be embarrassed by the glowing tributes paid by the crowds who attended his removable.
Golf Club
Frank was a co-founder of Oughterard Golf Club in 1972. Frank was a dedicated member of the Club from its humble beginnings to the day he died. He saw the Club progress from a Private Club to a Members Club, to a fine 18 hole Parkland Course with a stately Club House. He was particularly pleased with the reputation the Club acquired for its warm welcome, good food and sporting competitive players who brought honour to the Club through their achievements down the years. He played and captained several teams.
Honorary Life Membership was bestowed on Frank in 1990 in "recognition of his vision, determination, commitment and long years service since the foundation of the Club. As Co-founder, Captain (1978 & 1979), President (1988 & 1989) he has contributed in a major way to the building, development and success of the Club." Members, wearing the Club green jackets formed a Guard of Honour and accompanied Frank's remains to the Kilcummin Graveyard.

Angling Association
Frank's life as a young boy revolved around hunting, fishing and football. He cut bamboo canes in Lynches garden and used them as home-made fishing rods. Attaching a hook and a line he and his pals explored the Mill River and the shores of Lough Mask and Lough Coolin. They used worms and 'ciarógs' (beetles) they found under stones. In September they used daddy-long-legs, grasshoppers and stoneflies as baits. Later they used 4 oars to row out into the deep and learned to manage a boat in all weather conditions.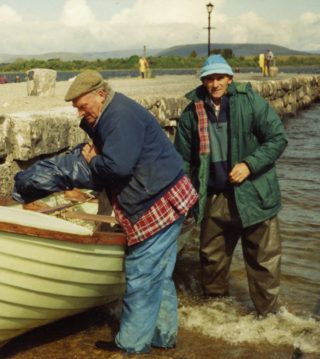 He acted as Treasurer of the local Angling Club for 20 years and was honoured and privileged to be granted an Honourary Life Membership in 2008 'for his commitment, support over the years, and in a major way to the development and success of the Association.'
Community Activist
The old Irish saying – "Ar scáth a chéile a mhaireas na daoine" – if implemented contributes to a vibrant and active community. Frank like many other community activists in the 60's joined Muintir na Tíre and was a co-founder of The Oughterard Agriculture Show, The Athletic Club and later The Community Games Association in the 70's, The Boxing Club and The Tourist Association – acting as secretary for 15 years.
He was chairperson of Oughterard Social Service for 30 years 1975-2005. Together with a dedicated group they catered for the temporal needs of people in the community. He was actively involved with 'Meals on Wheels' for the last ten years of his life.
Trade Unionist
Frank was an active member of INTO and RTA on his retirement. He campaigned for the rights and conditions of children and teachers in Primary Schools.
Above all Frank was a family man. Married Mary Tighe (Tuam) in 1967 and they were blessed with seven children,


Mary, Ann Marie, Ursula, Francis, Sinéad, Eimear, Brian and fifteen grandchildren. He was proud of them in his own quiet way – never critical but wouldn't over praise. They were well grounded. He never spoke ill of anyone, ' there are two sides to every story', he would say. He never used a foul word but was always respectful in his demeanour. Gentleness, kindness and integrity were the hallmarks of his character. He never strove for riches, glory or fame – 'Enough is enough', he would say.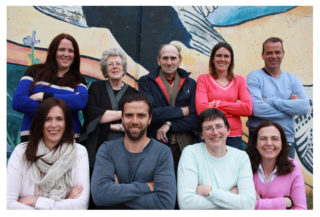 Indeed Frank lived and enjoyed life and he used his God given talents for the benefit of his fellow man.
A Thiarna, tabhair Frank agus gach atá marbh isteach i do ríocht ar feadh na sioraíochta.