I arrived as a recruit to Oughterard on the 12th Sept 1964.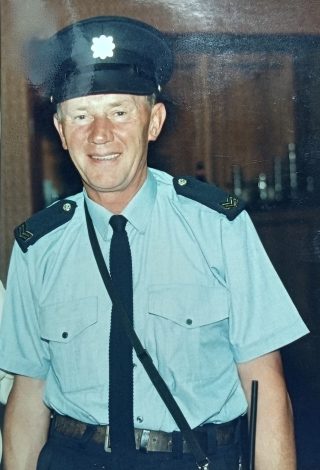 The station party consisted of An Cheanfort  Padraig S. O Gallchohair, Donegal. RIP. Sergt. Jim Feely 9092, native of Sligo, RIP. Gda Tadgh Guiheen (8681) native of Dunquin RIP. Mick Dowd (9826) Dingle RIP. Denis Manning(6745) Ballyferriter (District  clerk) RIP. Gabriel Colleran (13373) Headford (official driver) RIP. Con Gallagher Donegal RIP. Pat Gillispie Donegal RIP, MIck Ward Donegal RIP.
Later that month  Jim Boland (15707) Kerry arrived from training. Tadgh Guiheen in his youth played full back  with  Dunquin – the goalkeeper being non other than the famous Krudger Kavanagh. Mick Dowd served in the Defence Forces, during the emergency, performing duties as lookout at Burhnam  and Sybil Head (Ceann Sibheal)-where the recent filming of STAR WARS was. Sergeant  Jim Feeley went onto becoming a Superintendent and retired in Wexford. The patrol car was a Ford  Consul 375.
The accommodation was very basic  with offices on the ground  floor and sleeping quarters upstairs.  The heating system was 2 turf fires. During the winter some uninvited "furry friends" squatted too close  for comfort.
The Owenriff river was at the rear of the building. During the spawning season our sleep was very often interrupted by the very loud noise made by both salmon  and trout burrowing in  the gravel on the riverbed. Unfortunately in the late 1960's, the fish developed a horrific skin disease known as UDN. It drastically depleted the stock. It was not a pleasant  sight to see trailer loads of fish being removed from the river for dumping. The local economy took a big hit as well. In those days it was a common sight to see a big number of English registered cars (the Hillman Minx was the car of choice) fitted special racks for holding fishing tackle, parked outside Hotels and Guest Houses.
When the Mayfly hatched it was  common to schoolboys  offering boxes of these, for sale to visiting fishermen. Unfortunately the habitats of the fly became contaminated with disastrous  consequences.
Back in those days Policing bears no resemblance to that of  to-day. There was no radio system, no IT, no specialised units, no road Policing with transport consisting of one patrol car per district. Members acted as enumerators in compiling agricultural statistics  on an annual basis, while also doing the census every 5 years. Registers of electors were revised annually. The laws in relation to Noxious Weeds  had it's priority.
In Oughterard  and throughout Connemara the laws relating to poteen brewing were rigorously  enforced. To this end a patrol car and boat was in constant use. The late Garda  Ml. Dowd was both an expert and genius in this field.
Another duty undertaken was the certification of bull calves who failed the Department inspection were properly castrated. The performance of these duties  generated excellent local knowledge.
One Sunday morning I noticed a VW beetle parking outside the Church and out stepped an elderly bearded gentleman dressed in tweeds and wearing a kilt. On learning that his name was Claude Chavasse, I  became interested because as a child l had heard about this man. As an Oxford scholar he came to my native area (Ballingeary, Co. Cork) to study Irish. While their the local R.I.C  Sergeant  Appleby  thought he was a German Spy and demanded his name, which he refused to give in English. As a consequence he received a 5 day prison sentence.
Listening to the radio, as a child  l often heard the song "The Connemara Bus". One evening whilst on duty  l saw an historic green bus parked outside the  Library,  I was  more than amused  to learn  that  this was the real McCoy. The owner, Andrew Ferguson, a genial character also owner the bar across the road next to Tuck's garage.
Going through life you will encounter people who will have a  positive effect on you. One such person was the late Mrs  Mary Geoghegan, Claremont, also known as the "merry Widow "Her great loud hearty laugh could be heard for some distance. She always had a positive attitude.
Another was Pat Gibbons. No matter what his hurry he would always come off his bicycle and talk to me, especially about  Cork  hurling. If he had something important to say he would preface with  "well help me Jaysus Paddy Lehane."
John O'Toole from  Leam (known as  John Ann) was another such person, who always spoke in lrish. After having a drink he would preface or conclude a sentence with "fair play do John Ann".
A Regular caller to the Garda  Station, with perceived problems, was John Finnerty, Camp St, a.k.a "John Bone'", On one such visit  the member on duty spoke first saying " John, I  heard you are getting married ". John bolted out the door, but, on returning five minutes later asked  'did you hear to who, Sir?,"
Another visitor to Oughterard was one, Francis Kendall-Husband, a native of Somerset, England  and styling himself as the  last of "wandering bards ". He travelled throughout  Ireland and slept in the cells of Garda  Stations. On his arrival to Oughterard he would book his  B&B  at the station. That night he would take stage in Mike Power's bar. He composed and  recited  poetry for the  clientele. He  always departed  early in  the  morning.  He was an encyclopaedia of knowledge on the Gardai,  He was aware of promotions, transfers, retirements and he also knew some  members wives by their names.
During the long Bank strike in 1968 Bank officials in Galway secured temporary employment with Keogh's bog at Maam Cross. This increased the volume of traffic through the town morning and evening.
The film  "Sinful Davey" was  filmed at Rosscahill in 1968. Most of the cast stayed in Corrib Hotel. The iconic figure of Noel Purcell was to be seem walking  in the evenings. He would sometimes come across the road and chat with the member on duty. He had a strong profound Dublin accent.
The Corrib Hotel was at that owned by  Dr Colonial  Roberts and his wife, Mavis. Shortly afterwards they sold the property to a flamboyant Irish American, named O'Rourke. He styled himself "the Prince of Breffeni".
One of the events I enjoyed, when the opportunity presented itself was the game of cards in the late Mattie Healy's shop on Sunday nights, A great group would gathered  Tom Healy (the Yank),  Jackie Murray,  John Austin Molloy amongst others. The most versatile character of the lot was Mark Geoghegan, an elderly man who spoke both In both Irish and English, with an equally good turn of phrase in both. One night he arrived a little late saying he was looking after his son's calves who had contracted bad scour. During a break someone asked him how  bad they were.  Pointing to the keyhole in the door he replied "
Tá siad chomh dona sin go mbeidís in ann é a shéideadh tríd an bpoll sin gan teagmháil a dhéanamh le haon duine.
". Mark had  a great interest in Connemara ponies, keeping a stallion at stud. He was instrumental in the revival of this beautiful breed of animals.
I have a very vivid memory of seeing  Andrew D'Arcy and Barney Joyce  collecting household rubbish with  a horse and butt. They also swept the streets.
Some of the craftsmen operating were Tommy Mallon, boatbuilder,  Paddy Tom Joe, blacksmith both in Camp St, while the Byrnes' brothers had a bakery In Main St. V'soske Joyce employed several skilled workers in  carpet manufacturing.
Killannin area has made its way into legal history with a case stated entitled  Coyne V Tweedy (1898). The Parish Priest was dispossessed, but remained in  possession. A group gathered to install the new P.P. tempers were fraying. A Constable  arrested the priest for his own safety.  such action was deemed lawful.
Major William Poppleton who guarded Napoleon in St Helena is buried in Killannin.
On the 18th July 1918 an ambush took place at the  Mouth of the Glen,  Ballingeary  In which 2  constables were disarmed, without loss of life. Theirs names were Bennett and Butler. The latter is though to be a native of  Galway.
In 1969 plans were put  in place to construct a Golf course  on  Miss Willis farm. Objections were raised. This had the effect of creating a rift in the  community. Thankfully reason prevailed.
The following are the names of other members who served in  Oughterard.  Liam Roche 10708, Charles Friel 14465 RIP, Tom Duffy 16666, Jim Healy, James Cuddy, Brian Mongan, Michael Flaherty. Pat Ferriter RIP. Others also served Seamus Kenny RIP a native of  Newcastle West and stationed at Lettermore married Chrissie Conneely, The bar, Main St.  Their daughter, Emer and her husband, Ray Moynihan own The Earls Court  Hotel, Woodlawn, Killarney.
Before I conclude l will have to refer to very enjoyable days out in Glann woodcock shooting in the company  of Paddy Clancy. The fantastic scenery more than made up for all the misses. God be good to you Paddy,
Just to let you know  I came to Oughterard in 1964. With the exception of a year in Rosmuc I stayed until 1971 when I was transferred to  Carrickmacross on promotion. Afterwards I  served in Sneem and Dingle before finally getting settling in Killarney.  My reg no is 15626d.
Sgt Pat Lehane