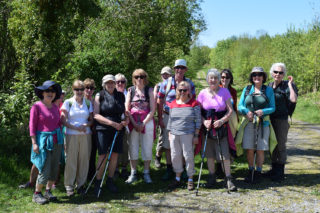 During the inclement weather our early walks in January were led by Mary Kyne through the sheltered roads of Rusheeney Village, Leam, Mile Orga and Owenriff/ Canrawer walks. These walks got us moving for the more challenging walks of Una Fleming in Inverin, a walk high up amongst the windmills over looking Galway Bay. 19 participated in this walk and were rewarded for their effort with delicious afternoon tea hosted by Una. Indeed this social occasion set a trend which was repeated by Gil and Tom who led a walk to Seefinn – not for the faint hearted and Chris and J.P. who brought us to New Village, Glann and then hosted two delightful afternoons in their newly renovated homes in Glann. We could get used to this treatment!
At the end of storm 'Gertrude' and oncoming Atlantic storm 'Henry' our youngest leader Roisin Mc Govern put it up to us 'oldies' as we battled strong winds and driving rain up the mountain to Pillougha. Battle we did with suspect hips, backaches, Agnes' broken umbrella and Mary Kyne's dip in a hidden drain. There was no tea or goodies that day – it was straight home to hot showers.
Strong winds persisted during our walk to Derryclare led by Barbara and Michael McEvilly's walk – the Garrynagry Loop. Ann Gallen's walks to Renvyle, Lough Coolin, Cong/ Clonbur proved as challenging and as scenic as ever.
The walks in the first half of the year led by Madeline O Connor and Marie Conneely in Moycullen and Ballynahinch, Agnes Mc Evilly's in Rosswoods, Kathleen Ellis in Spiddal, Mary Walsh in Poulnaclough, Mairin Buckley in Cashel followed with afternoon tea in Cashel House Hotel and exploration of the gardens were well attended.
Trip to Inishboffin: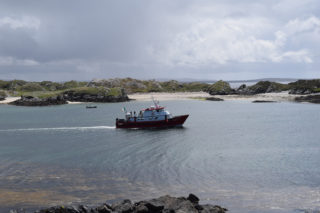 11 members had a two day visit to the island in May. They experienced the cliff forts, monastic sites, great sandy beaches- even a Cromwellian Castle, deep sea caves, a wide variety of sea birds, meadows teeming with all of our magnificent wild flowers. After a strenuous day's walking our group welcomed a few drinks, good food, song and dance. We know how to enjoy ourselves.
Burren and Inishmaan Walks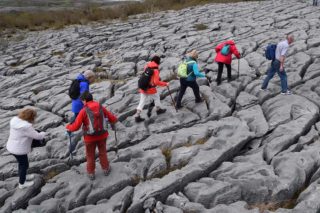 The Ramblers would not be contented without our annual visit to the Burren and to one of the Aran Islands. This year was no exception as Joe Murray and Una Fleming led walks in the Burren. On the 18th August Una and Joe brought us on a day trip to Inismann. Joe and Una's superb organisational skills managed to arrange a calm warm dry day in the midst of two storms to assure a safe crossing. The high light of the visit was the discovery of 6 magnificent Harry Clarke's windows in the local church. We walked along the cliff to the playwright J.M. Synge's chair and had lunch close to a sheer stone ledge drop over the ocean. A visit to an old Clochán was our next stop before visiting the largest fort of the three islands Dun Conor occupying a splendid site over looking the wild limestone landscape of Inishmann. Inside this hilltop ring-fort there are several clocháns or dry stone beehive huts. Below fort Conor is Synge's thatched cottage. Inishmaan the quietest of the three islands is a labyrinth of stone walls some quite substantial in size. Before visiting the local Knitwear Factory we had a relaxing mug of tea/coffee in the local tea garden. Thanks to Una who has a profound knowledge of the flora, fauna, built heritage of the Burren and Aran we can identify mountain avens, orchids, bloody cranesbill, hare bells etc which greatly adds to our enjoyment.
International Walking Festival
At the end of June the Ramblers co-operated with 'Discover Oughterard' who organised a very successful Walking Festival. Barbara Mc Sharry was actively involved with the organisation of the weekend. Joe, Una, Nicky and Tim, Ruth, Christina and Geraldine participated in the walks while Mary Kyne led the Heritage Walk. Members of the club might take a more active role in 2017 in supporting this successful event.
The Quiet Man Party:
Laurie home from America and a regular walker with the group, hosted an evening in the time sharing cottages in Leam for friends and members of the group.
On the 4th September 21 members turned up for this challenging walk in August led by Ann Gallen up Cashel Hill. 21 participants split in two with some members doing the Cashel Walk finishing up at Cashel House Hotel for tea/coffee. A great day was had by all and all Tipperary fans celebrated a great win against Kilkenny in the Hurling Final on the same day.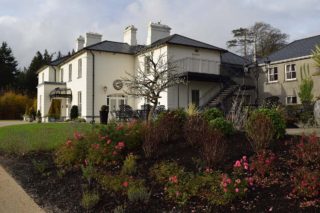 The club also supported the Galway Hospice Fund with its donation of 50 euro.
Welcome Back
Una and Agnes made a welcome come back when Peggy Campbell led a very enjoyable walk in her beloved Cong. She was a font of knowledge on places in the woods and the grounds of Ashford. Both places looked splendid with the autumnal leaves of autumn whirling down around them.
New Walks:
Dirk Valley, Tourmakeady: This was one of the newer walks in 2016 led by Barbara Mc Sharry. The drive through Finney is not for the faint hearted. On a bright sunny day the Valley looked amazing.
Lettercraffore: In October we enjoyed a walk by the shores of the lake bathed as we set out in a mist but bright sunshine later exposed the shimmering lake waters once famous for sea trout and brownies. One wouldn't expect to get marzipan filled scones on such a remote walk! But we did savour them freshly baked by the leader Babara.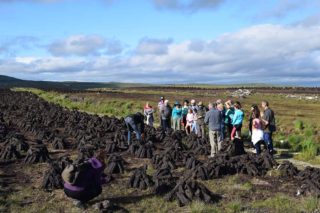 Christmas Outing:
Members enjoyed a splendid Christmas outing to the Abbey Glen Hotel in December where they enjoyed good food/wine and a sing song in the warm welcoming atmosphere that the hotel is renowned for. Outings, lunches and 'get- togethers' at peoples' homes all combine to add a social dimension to the Ramblers Group and helps the group to 'jell' together in a very special way. Tom Cusack has written a detailed account of this occasion.
New members 2016
We are delighted to welcome new members – Ruth and Nigel, Geraldine and Seamus and especially Nicky and Tim who don't live in this country but have taken the trouble to become paid up members.
Conclusion:
Thank you Joe Murray Secretary extraordinary for his commitment and dedication to the group during 2016 and particularly for his organisational and communication skills. We were informed well in advance of up coming events. Marie Conneely has taken care of our finances for the past number of years and we appreciate that she ensures that the funds are used for the enjoyment of the group.
A special thank you to members who go out of their way to find new walks for the group – Barbara Mc Sharry, Kathleen Ellis, Christina O Malley – who snaps us at different times and Joe and Una Murray all deserve a scout medal for their work. Thank you to every member who led walks and to those who entertained members at their homes. Every member's effort is appreciated and members' co-operation ensures the success of the Corrib Ramblers into the future.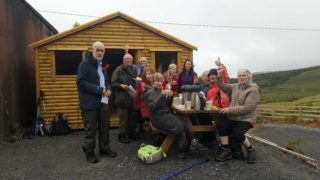 Beannachtaí for 2017